In 2007 my husband and I honeymooned on the island of Maui, hopping over to Oahu for a day-long job interview right smack in the middle of our vacation. We were applying for jobs that would keep us on the windward side of Oahu for two years and it seemed like a great adventure at the time. 17 years later, and this beautiful place has our hearts. Every single day I am captivated by the beauty of this island and its people. 
As a photographer, I have the opportunity to capture family stories in actual paradise. It's a dream. Our island home is a haven for honeymooners, extended family vacations, once in a lifetime vacations, military families stationed here temporarily, families (like ours) who fell in love with the beauty and culture of Hawaii, and native Hawaiians who regularly teach us to care for the land and each other. I have a deep respect for this land and the people who have cared for it for centuries.
When my photography career was just beginning, I traveled all over the island chasing light at sunrise. I was struck by the way light moves throughout the year when you live in the middle of the Pacific. These light & location scouting adventures led to some of my absolute favorite places to photograph couples, families, graduating seniors, maternity and newborn photos, and my most recent favorite: dancers.
We all know Oahu is stunning with its picturesque white and gold sand beaches, tall palm trees, lush junglescapes, and steep green mountains. However, I'll be the first to let you know that not every location photographs the same way depending on the light and time of day. I'll give you my top five sunrise locations and top five sunset locations (yes you can switch and reverse when you shoot there, but I'm giving you my fav fav) on the island of Oahu, with a few mid-day favorite locations as well.
Let's start with sunrise.
Halona Cove (aka Eternity Beach)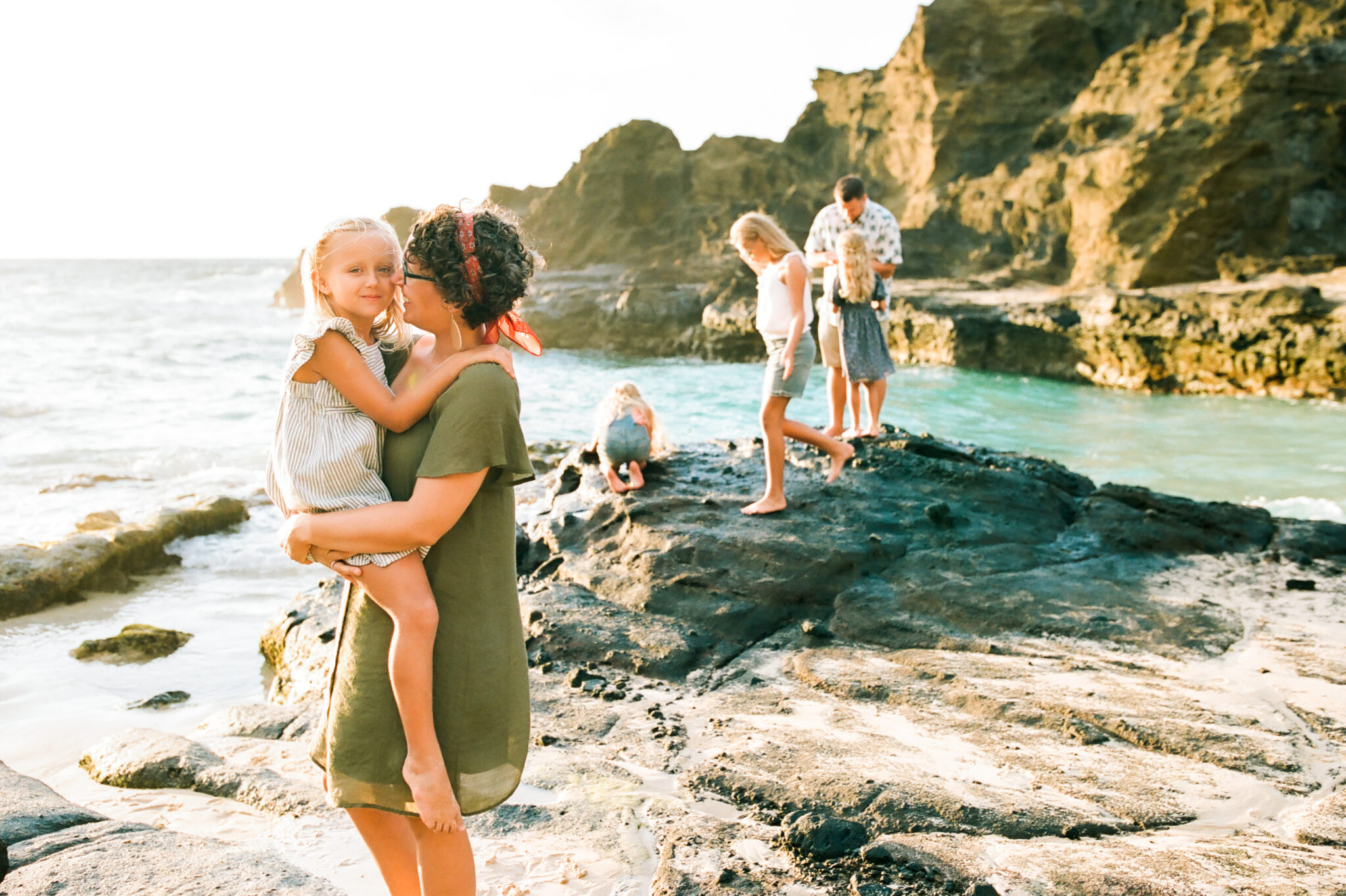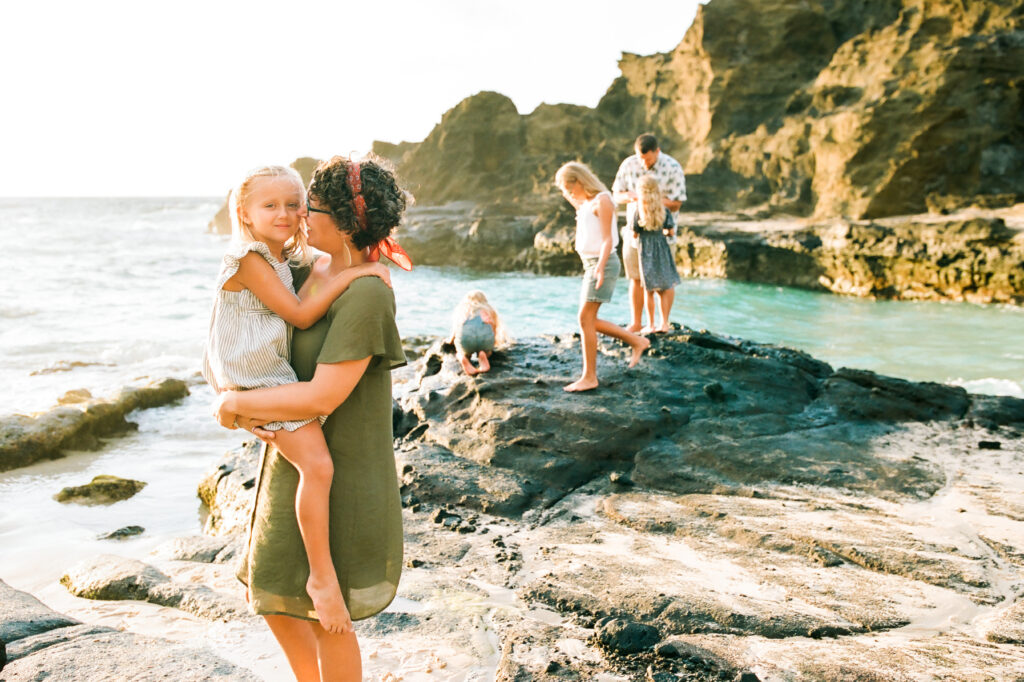 You'll find this location in the movies!!! Jurassic World, From Here to Eternity, Finding Ohana, and a handful of other well known movies have famous movie scenes on this iconic beach. Hands down my favorite sunrise on island is found at Halona Cove. We park at the Halona Blowhole parking lot and hike down a rocky trail to turquoise waters, ocean sea spray, and sea cliffs. If you've followed my work, you'll likely have seen a cave with sea cliffs in the background. Eternity Beach is the spot!!! If you're looking for epic Hawaian photos, this is a top fav.
Sandy Beach Park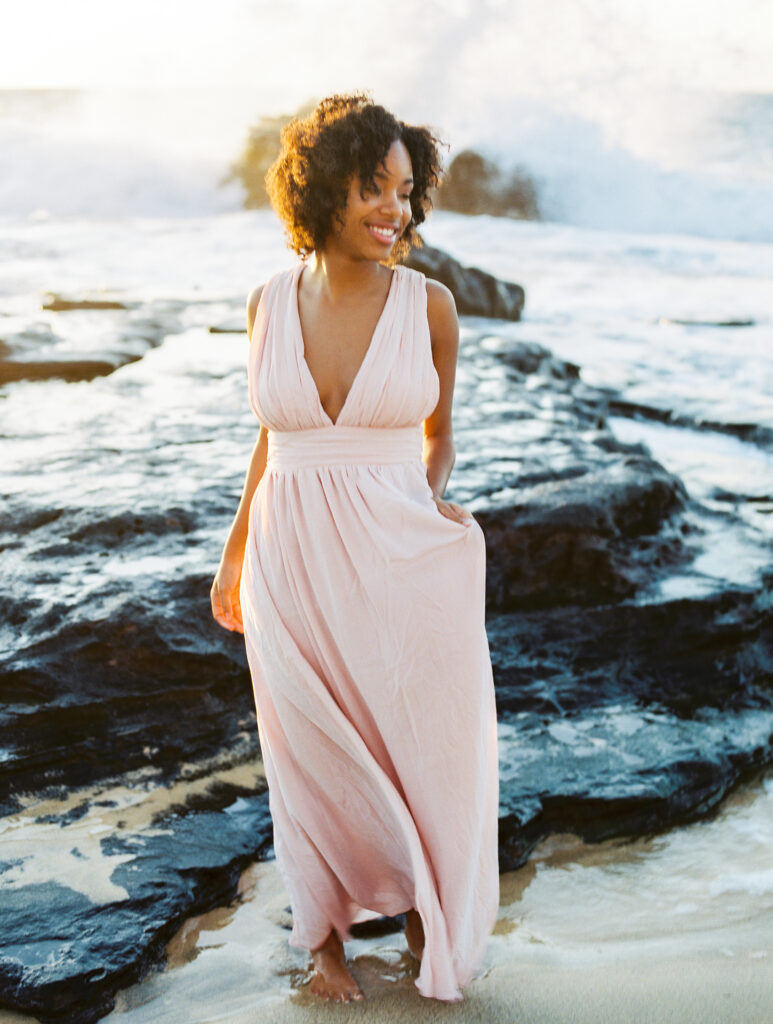 Sandy Beach Park has a great variety of palm trees, golden sand, rocks, deep blue water, and is often empty at sunrise. My husband is a big wave bodysurfer and since our early days on Oahu, we've come to this spot. Known by locals as Breakneck Beach, I do not recommend getting into the water unless you're very experienced. We can still play at the shoreline and get incredible images of your Hawaiian vacation. Sandy Beach is located right next to Halona Cove so I will often start at Halona and then trek on over to Sandy's if you're feeling up for two locations and two different looks! I highly recommend this for engagement, honeymoon, and anniversary sessions.
Lanikai Beach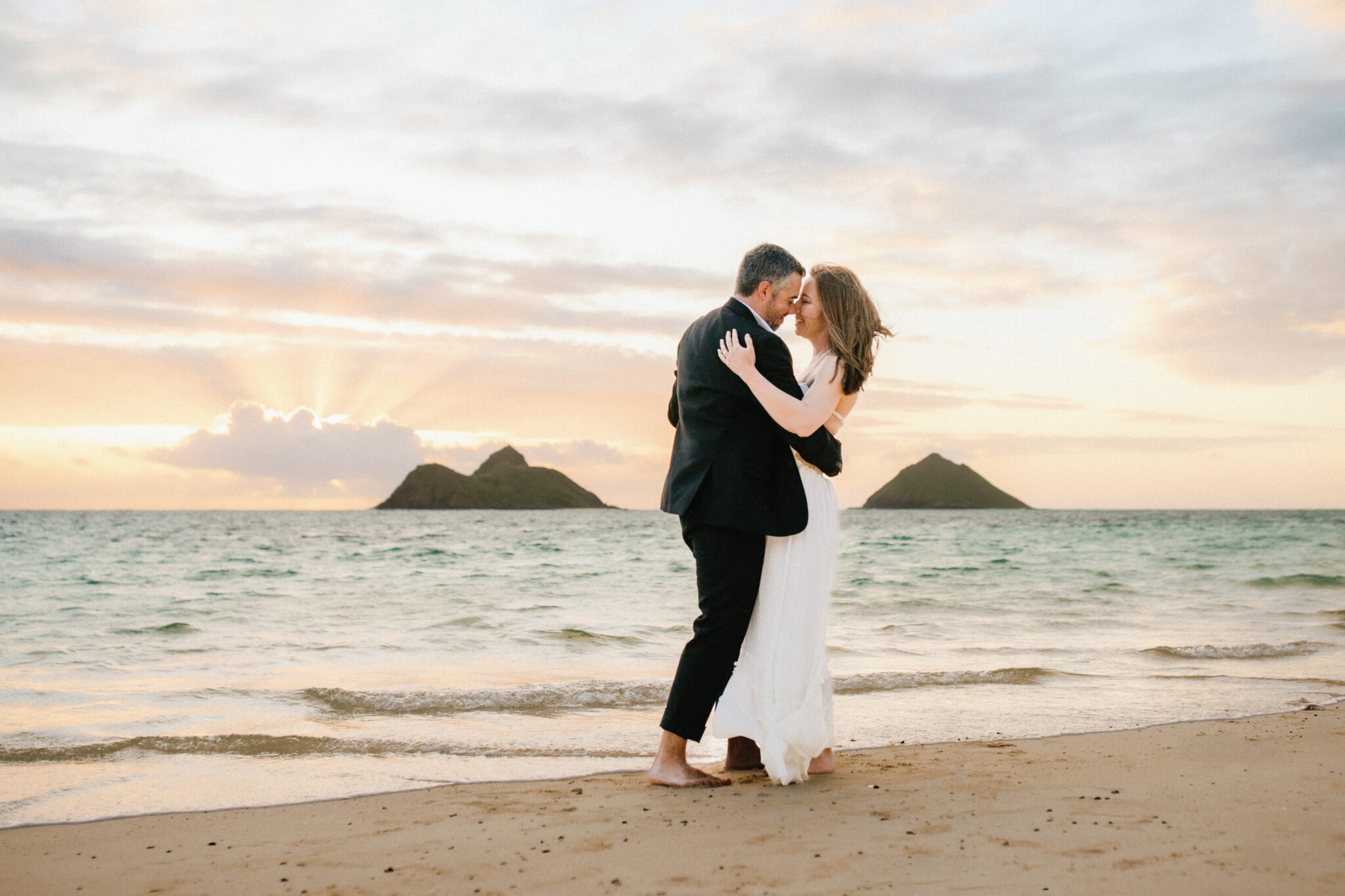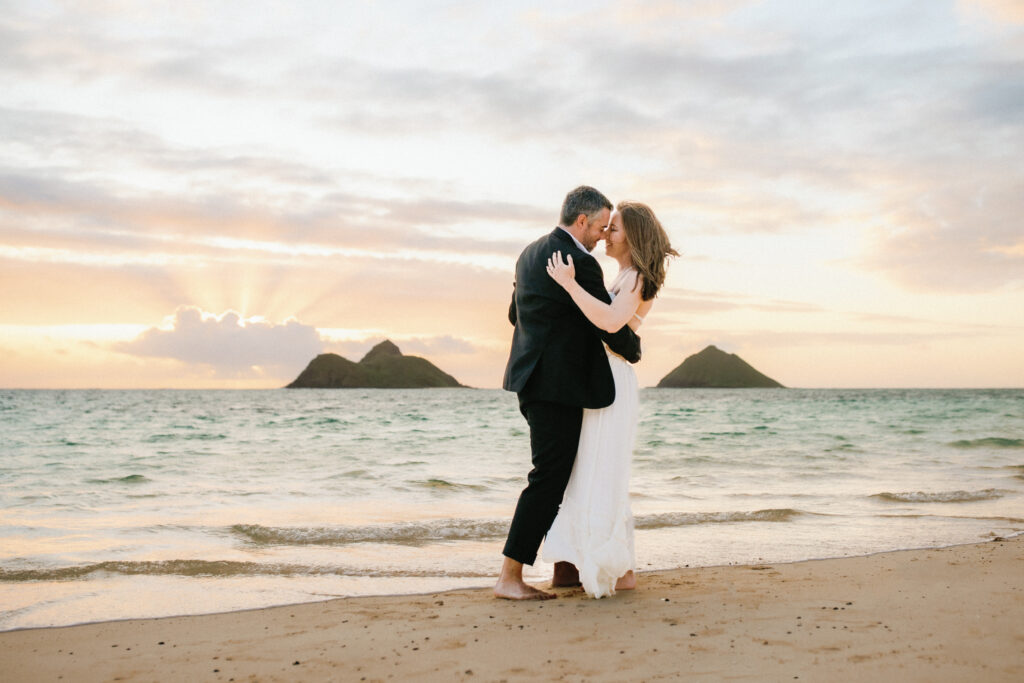 Famous for white sands, turquoise waters, and twin islands (referred to by locals as The Moks), Lanikai Beach boasts of one of the most incredible sunrises you'll ever see. Sunrays shoot out from the horizon and paint the sky incredible colors. The sunrise changes every day. Photos taken at Lanikai Beach are truly unforgettable. Lanikai is ranked among beaches in the world for good reason!
Bellows Beach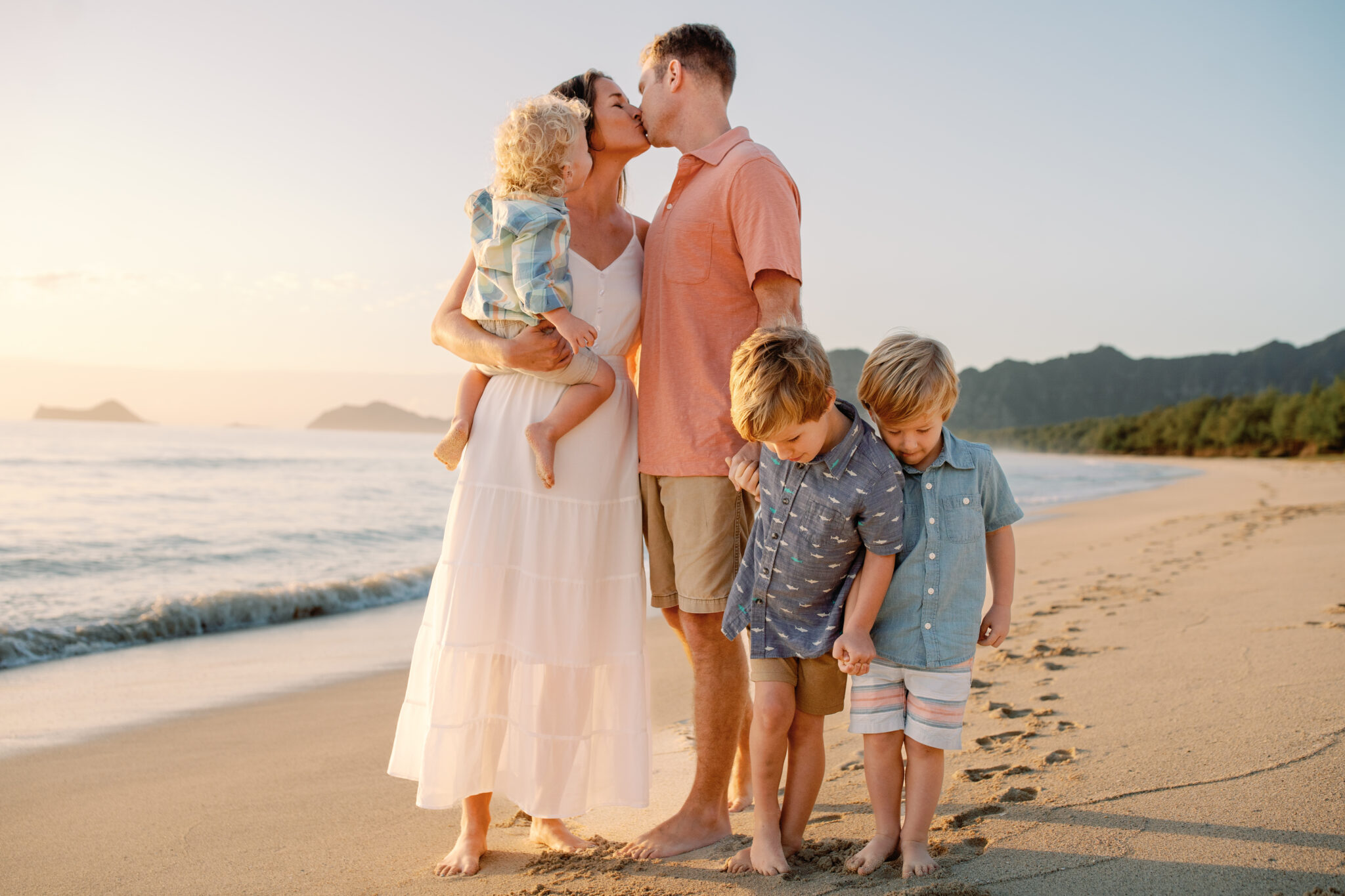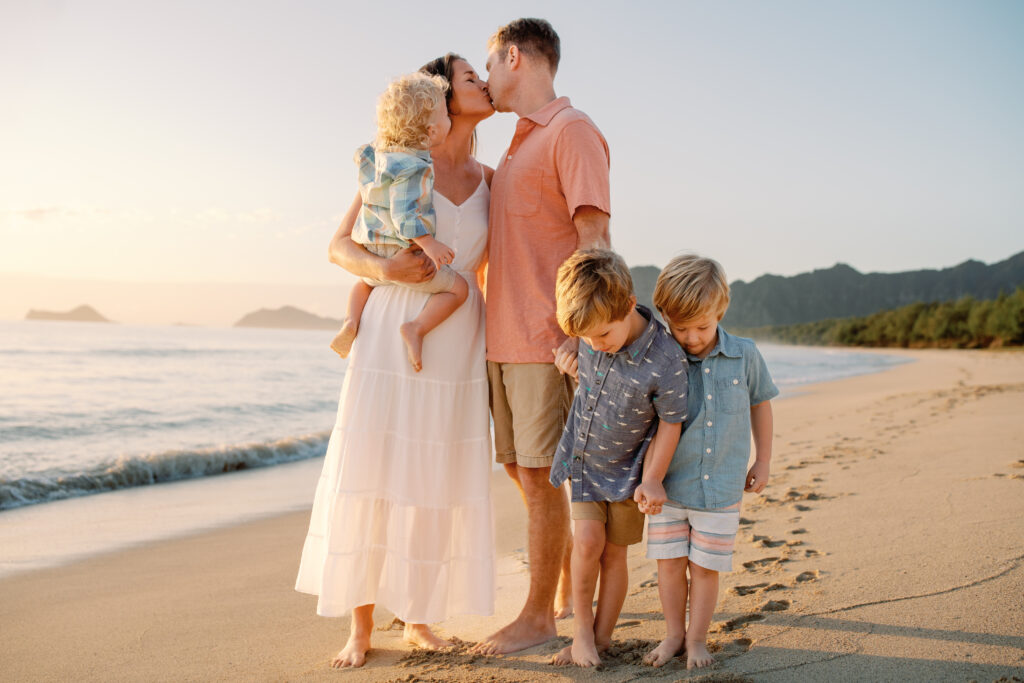 Take a drive up the road from Lanikai for a long stretch of turquoise waters, white sand, and scenic mountain views. If you're looking for both mountains and beach in one frame, this is one of your options!!! Located on the windward side of  Oahu, you'll want to take into account possible windy conditions. My favorite Bellows weather for photos is full sun at sunrise. I also enjoy shooting at Bellows mid morning, when the ocean is bright blue!
Kaaawa Beach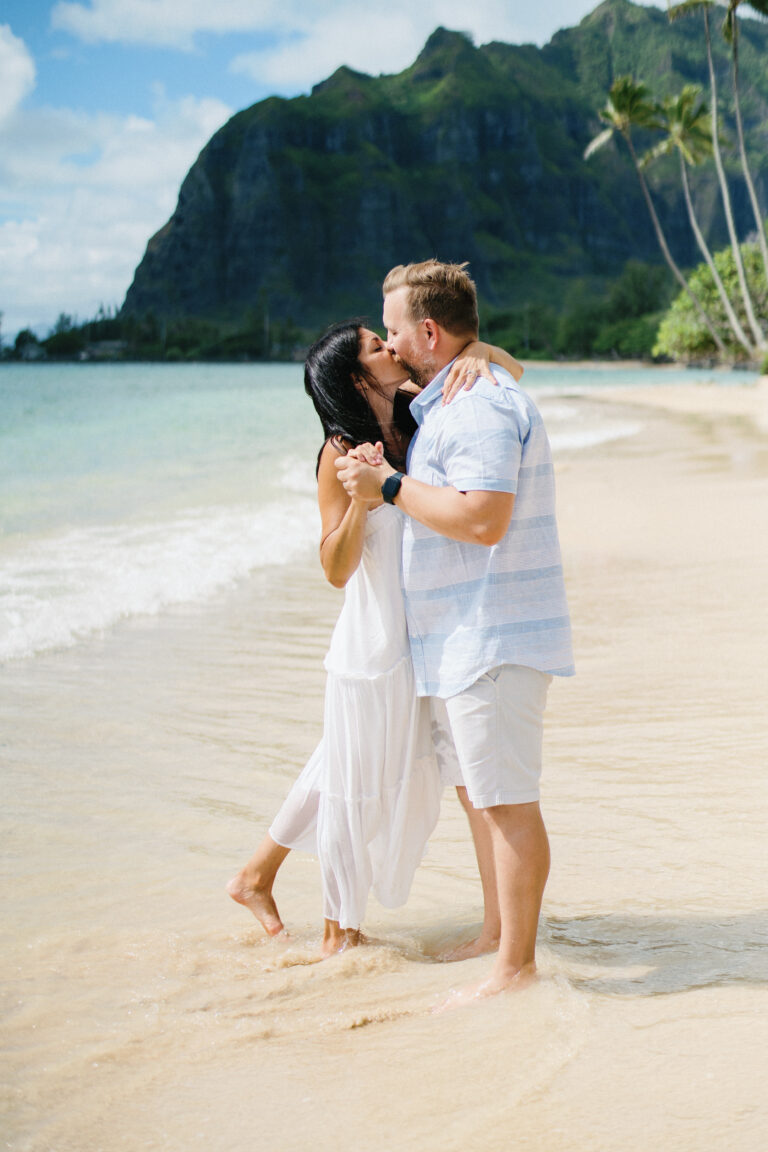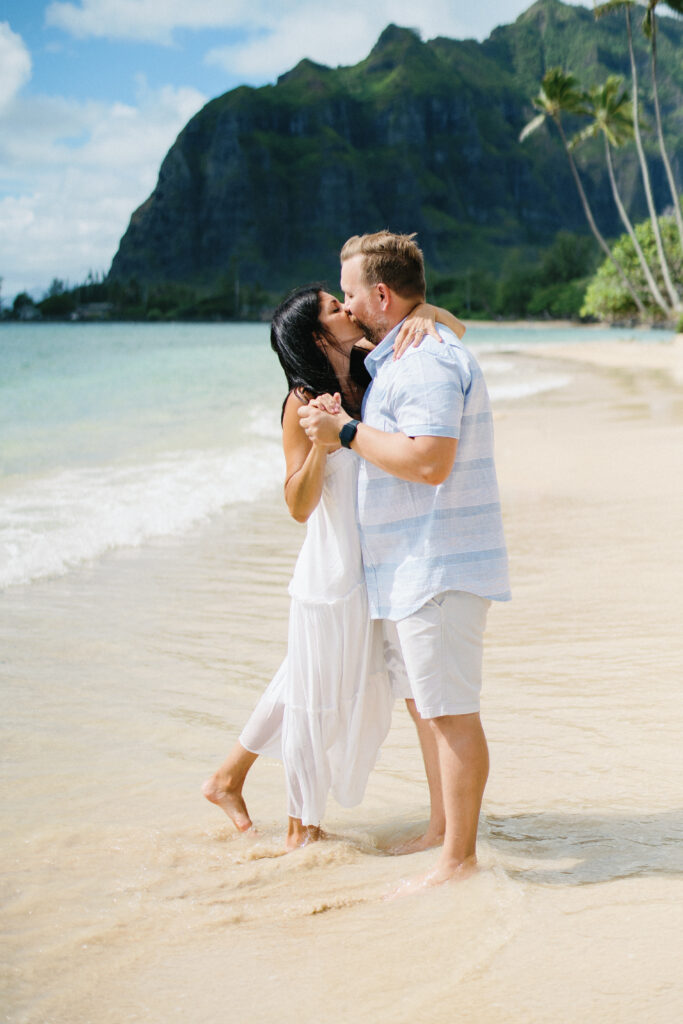 Nothing prepares you to behold the raw beauty of Kaaawa Beach. I'm still blown away by the dramatic, lush green mountains in the backdrop against the blue waters of the Pacific Ocean make for an incredible photo opportunity. If we're shooting at Kaaawa, I recommend bringing your swimsuits to change into. We can capture you and your people playing in the most gorgeous ocean waters!
Before chatting about sunset locations, I want to mention a few locations that photograph beautifully mid-morning and early afternoon. Unless we're deep in the jungle or in your home, I'm not likely to recommend shooting smack dab in the middle of the day, but I can run with mid-morning any day of the week. I've found that Hawaii colors are the most vibrant around nine am. While we might not get the sunrise or sunset, you're sure to get incredible blues in the ocean. If you're not an early riser or up for pops of color – please let me know and we will book mid-morning!!!! 
Kailua Beach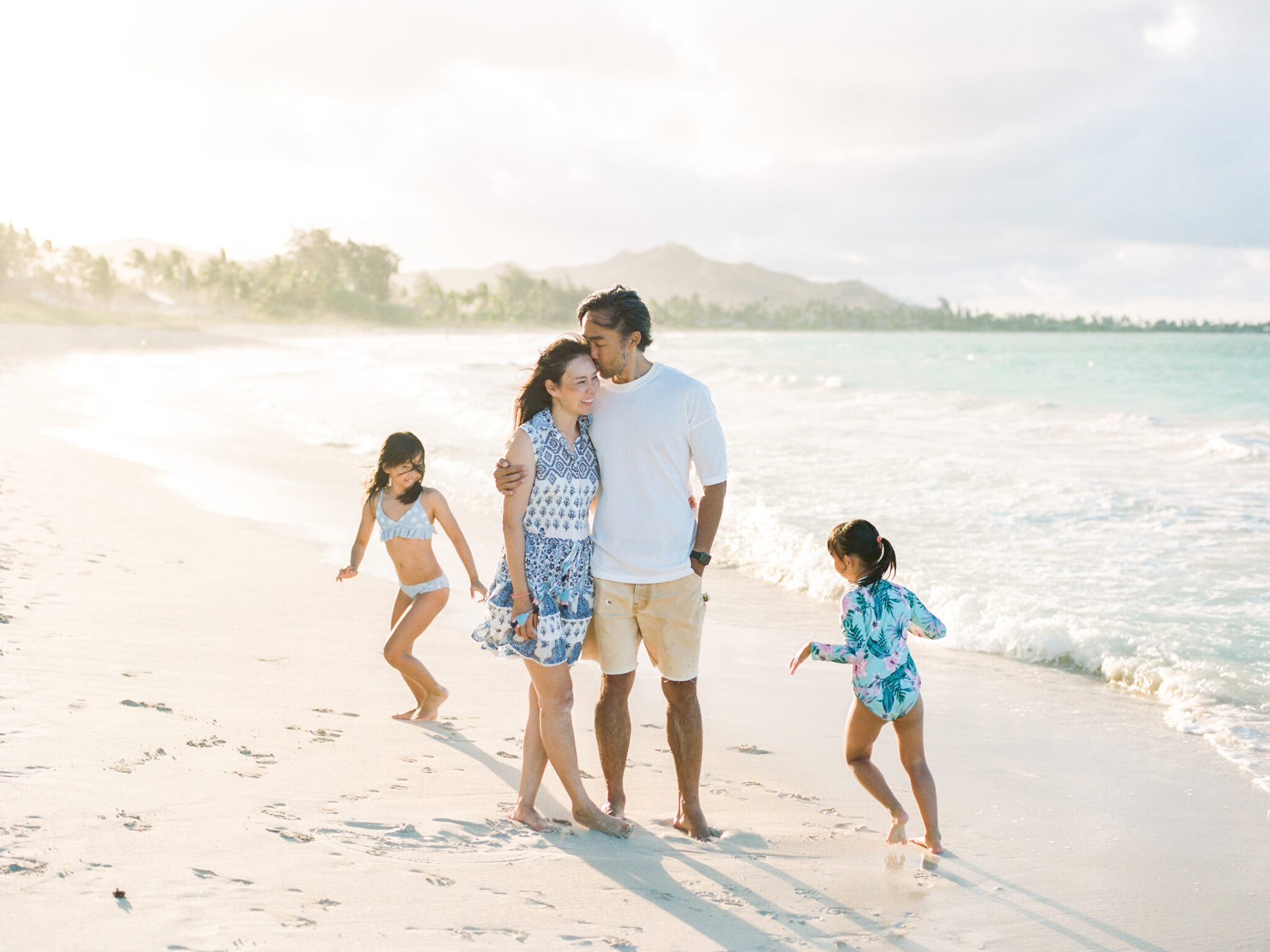 This place is home. We spend time as a family along the miles of sand stretched along Kailua Beach nearly every week. I can shoot here at sunrise, 9 am, 3 pm, and sunset. Kailua Beach offers white sands, views of the Mokuluas, lines of palm trees, and bursts of color. I have a few beach access points that I like to work with depending on the size of your group and the nature of your photo session. Those beach access points I'll keep secret until you book, but believe me when I say, "trust me on this one." 
Judd Trail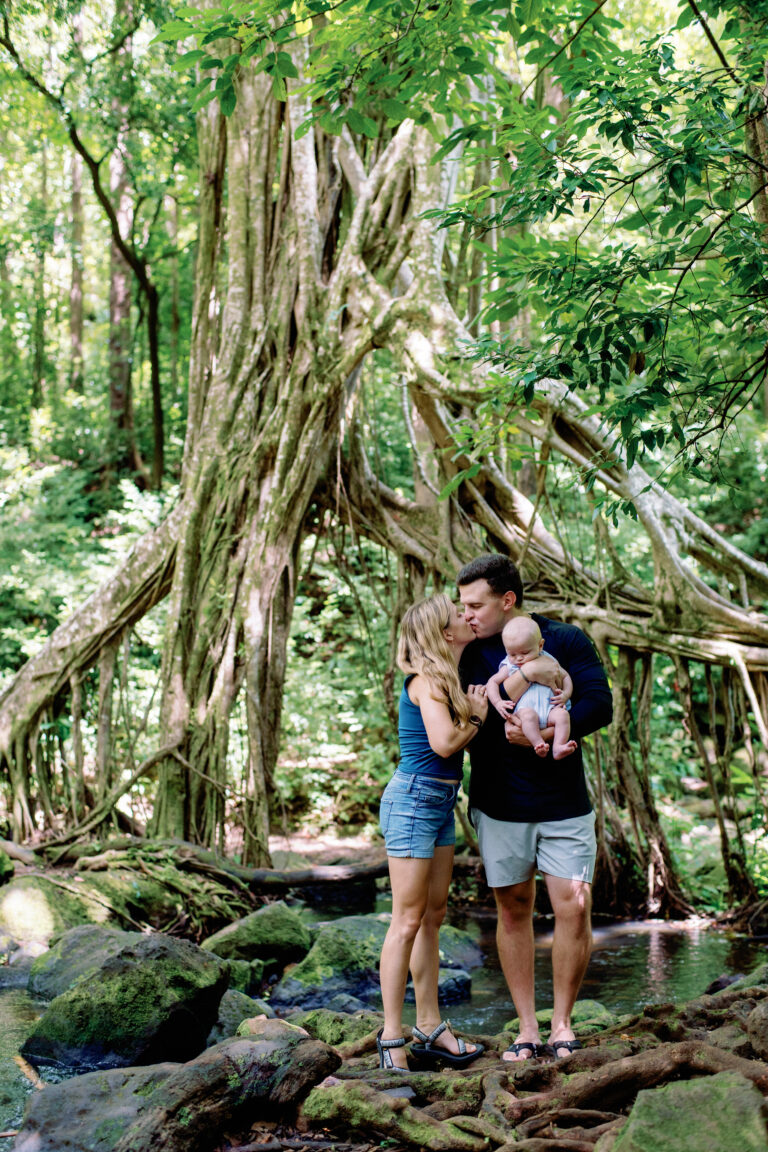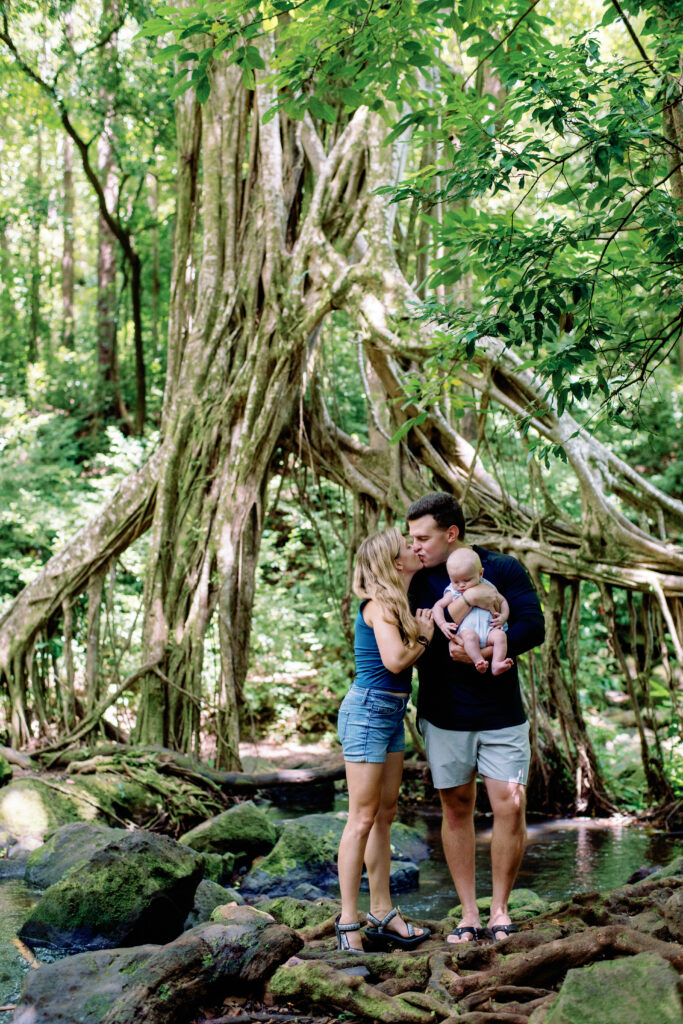 Just  prior to the trailhead of Judd Trail (Which I highly recommend hiking with your family – it's a fav for its easy nature and change of scenery with a swimming hole at the end) is the most picturesque jungle scene I've ever encountered. Small waterfalls, odd sized boulders for climbing, gorgeous banyan trees, and jungle leaves paint the backdrop of your photos. If you're not a beach person, but you want to capture the beauty of Hawaii, this is your spot. We'll want to shoot here mid morning or afternoon because it can get dark.
Kawela Beach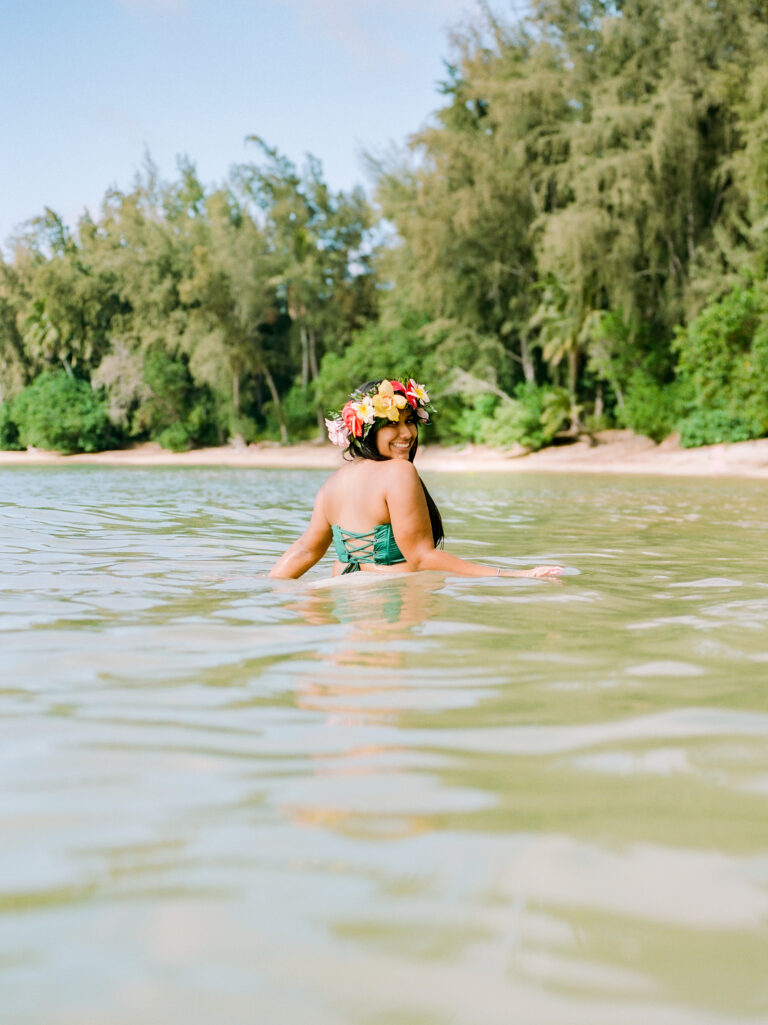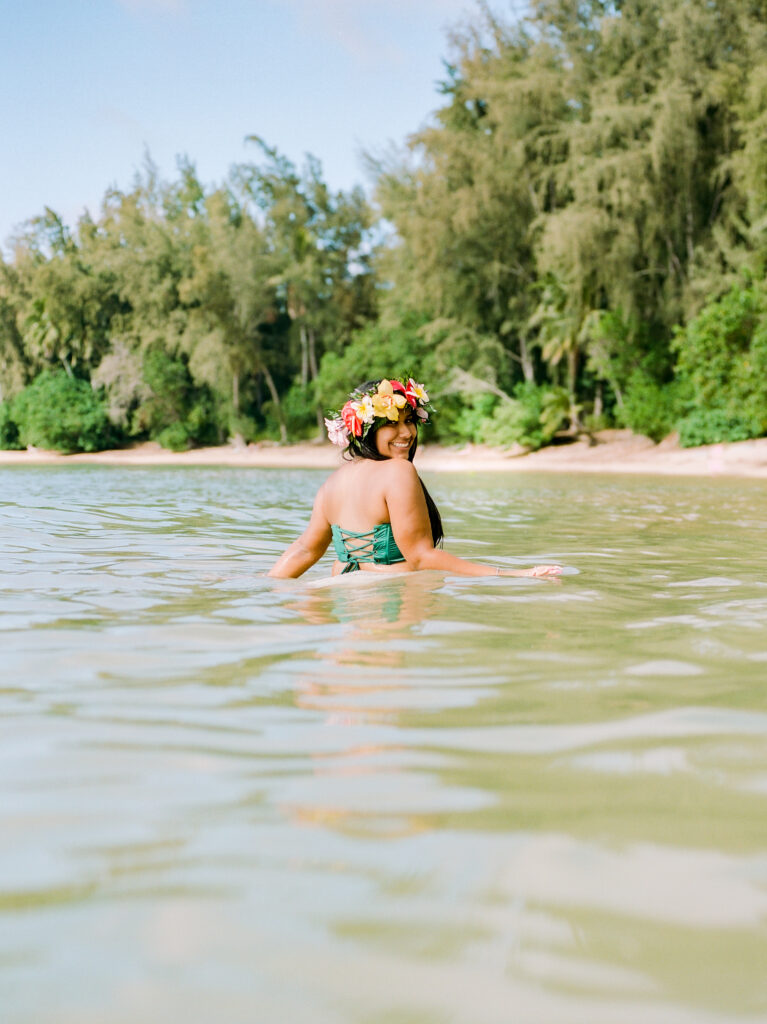 While there are several beaches on Oahu, Kawela Beach is gorgeous with a secluded and tranquil setting, surrounded by lush greenery and banyan trees, making it ideal for a romantic or intimate photoshoot. Because of how the bay is protected, this location can be photographed any time of day.
With the shallow waters close to the shore, there's plenty of space for adventure and beach play shots. To avoid large crowds, visit during weekdays. Kawlea Beach is a great place to bring colorful props like towels, hats, and sunglasses to add personality to your photos.
Kahana Bay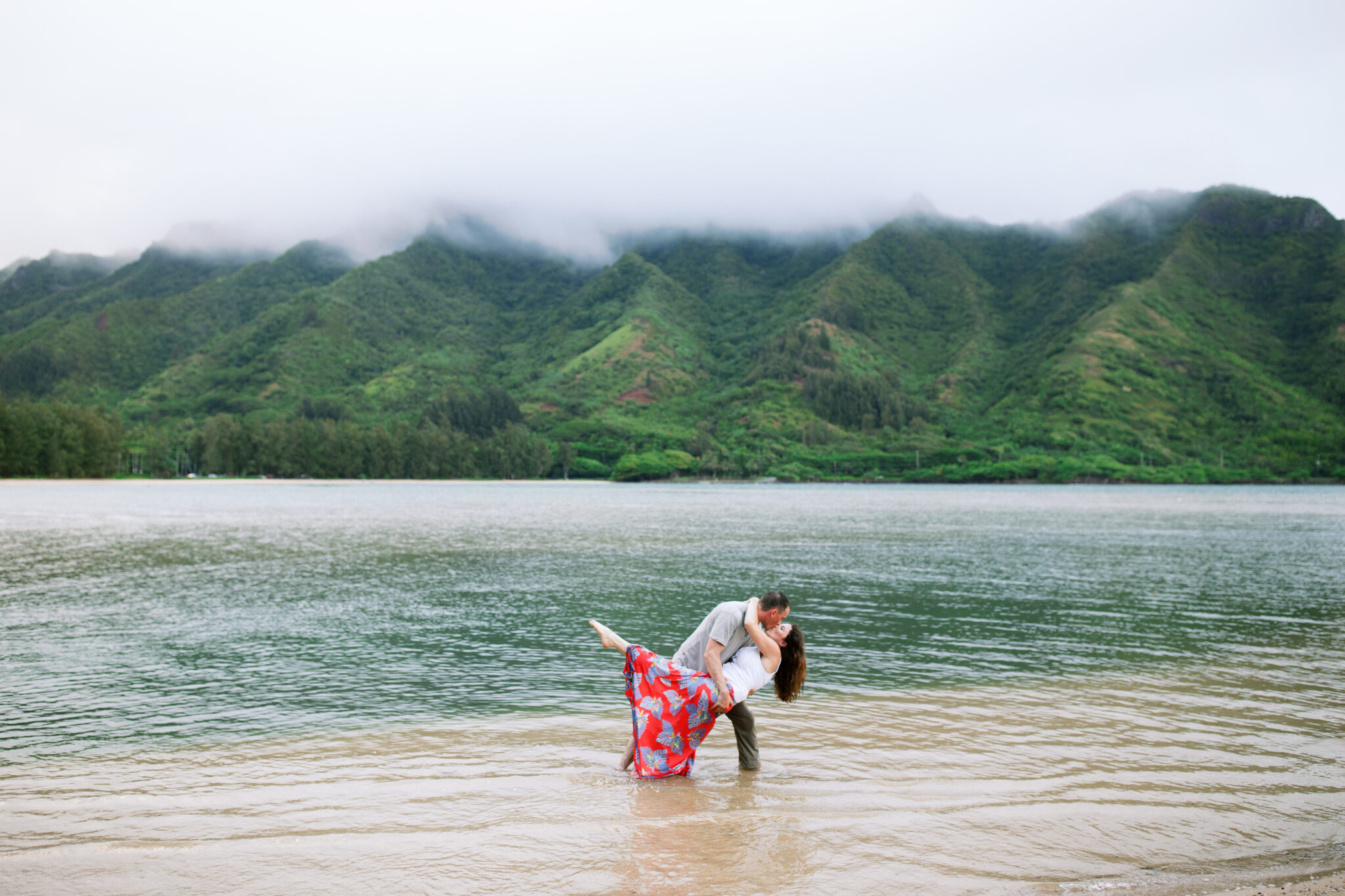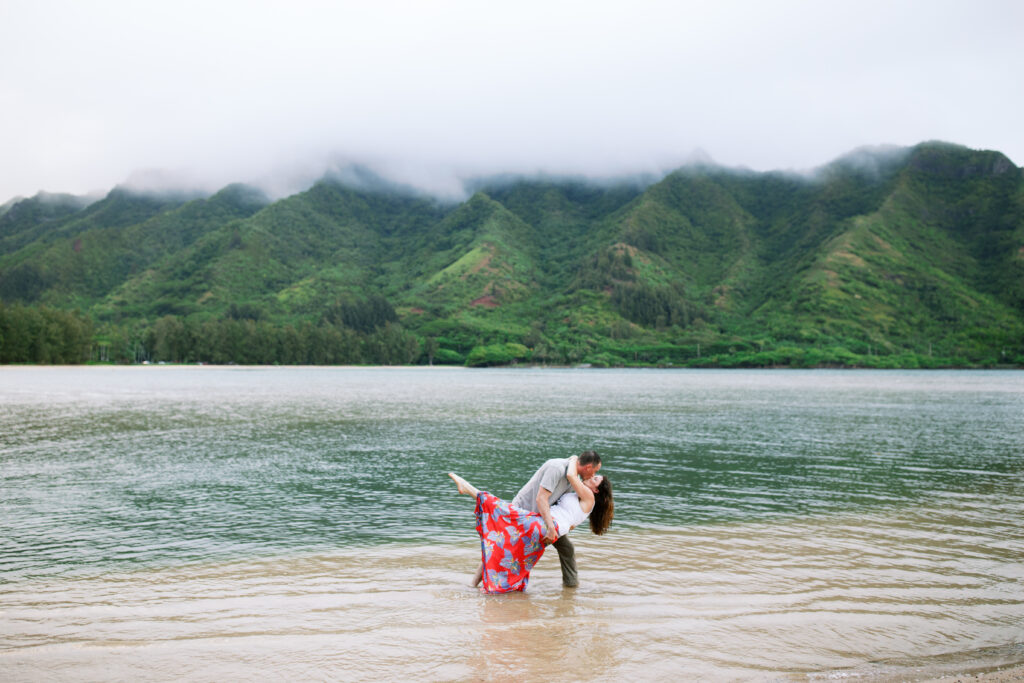 If you're looking for a stunning location including mountains and beach with more of a jungle vibe, Kahana Bay is your place. We can shoot here in the morning, afternoon, and throughout the day because of the way the mountains surround the bay. My clients who love earthy tones are a great fit for Kahana Bay, as typically these colors are more rich in green and deep blues. Kahana is a haven for preserving Hawaiian culture and land and is an incredible place to explore.
Heading on over to my top favorite sunset locations on this beautiful island!!!! If you're staying at Ko'olina or North Shore, you'll learn on the first day that the sunsets are stunning. I'm happiest shooting at a place that is meaningful to you so if you have a beach house or are staying at the resort, I'll come to you!!!!
Ko'olina Resort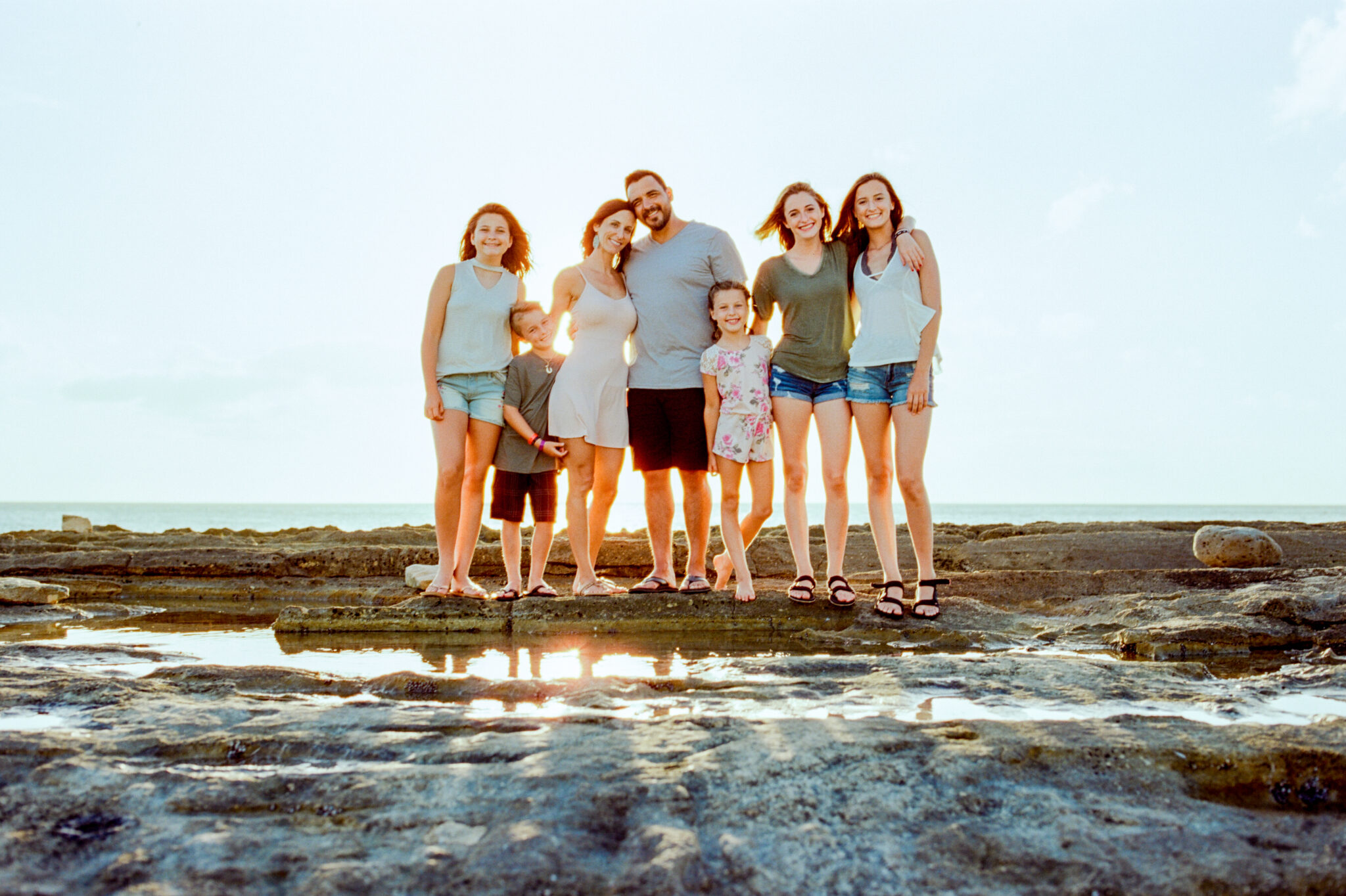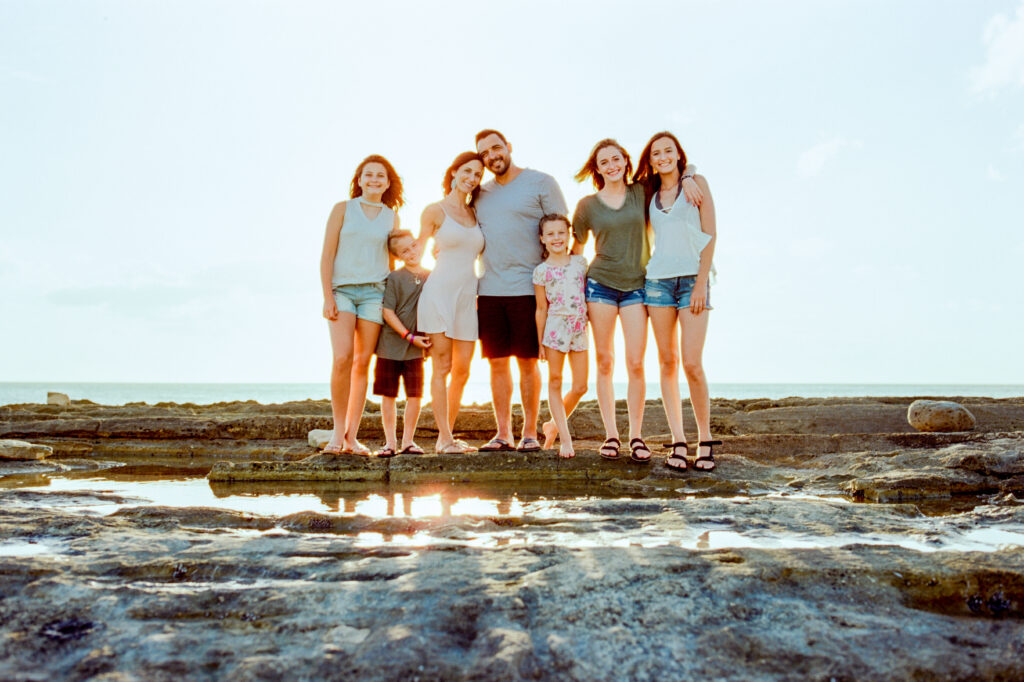 Many of my clients stay at Ko'olina, whether it's the Four Seasons, Aulani Disney Resort, or Marriott Ko'olina Beach Club and we have a blast capturing their vacation setting. This location shines at sunset, but it's pretty killer at sunrise too. I do recommend avoiding sessions on the weekend if possible, but if not, I can maneuver us to a less crowded location. I love Ko'olina for the light, palm trees, and oceanfront views from the edge of the lagoons.
Sunset Beach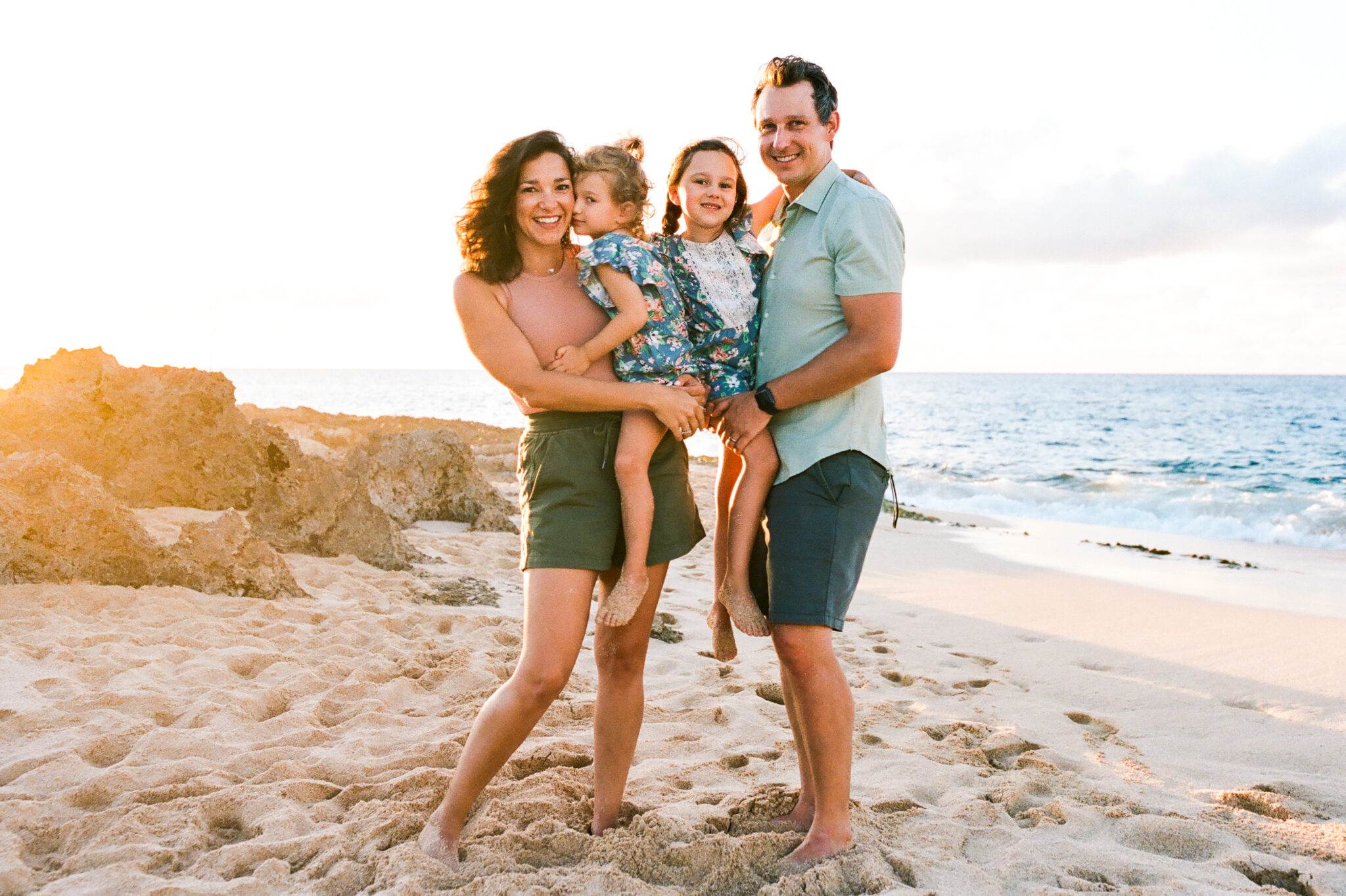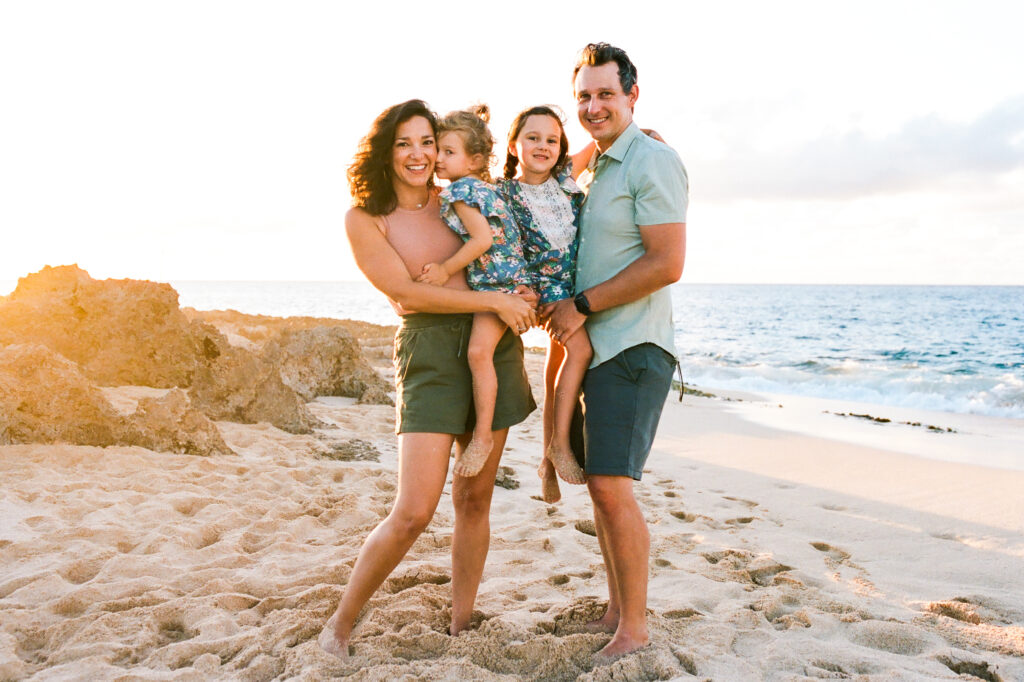 Sunset Beach lives up to its name, providing a scenic backdrop for breathtaking sunset photos. The golden sand is fringed by swaying palm trees and delivers an authentic Hawaiian beach experience. We're likely to see turtles in the water while we're photographing. If you're staying on the North Shore or are a lover of the North Shore, let me know and I'll point us to some more secluded beach access points to avoid the crowds.
Makua Beach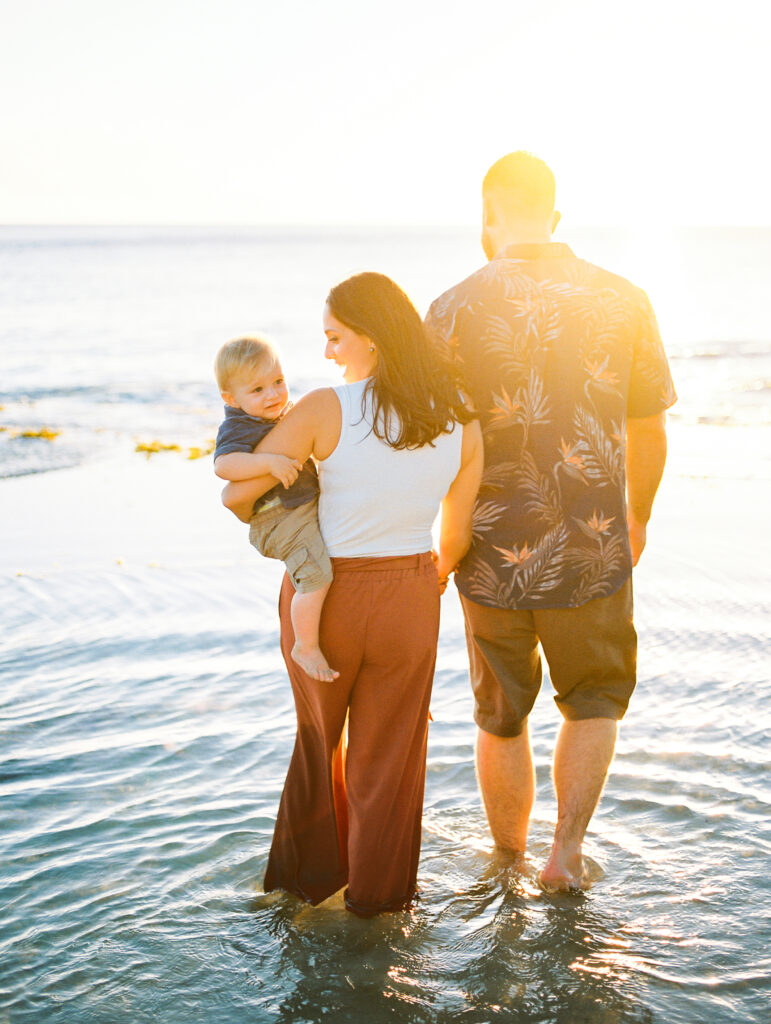 Makua Beach is special. Worth the drive all the way to almost the western most point on the island, Makua has a beauty that is almost magical. The sand is golden, there are tide pools for reflection images, and the water is the clearest you'll find. Plan for traffic and an enjoyable drive and know your images will be worth it. I will mention it's a pretty local spot so come prepared to be respectful and friendly to our local residents.
Kualoa Regional Park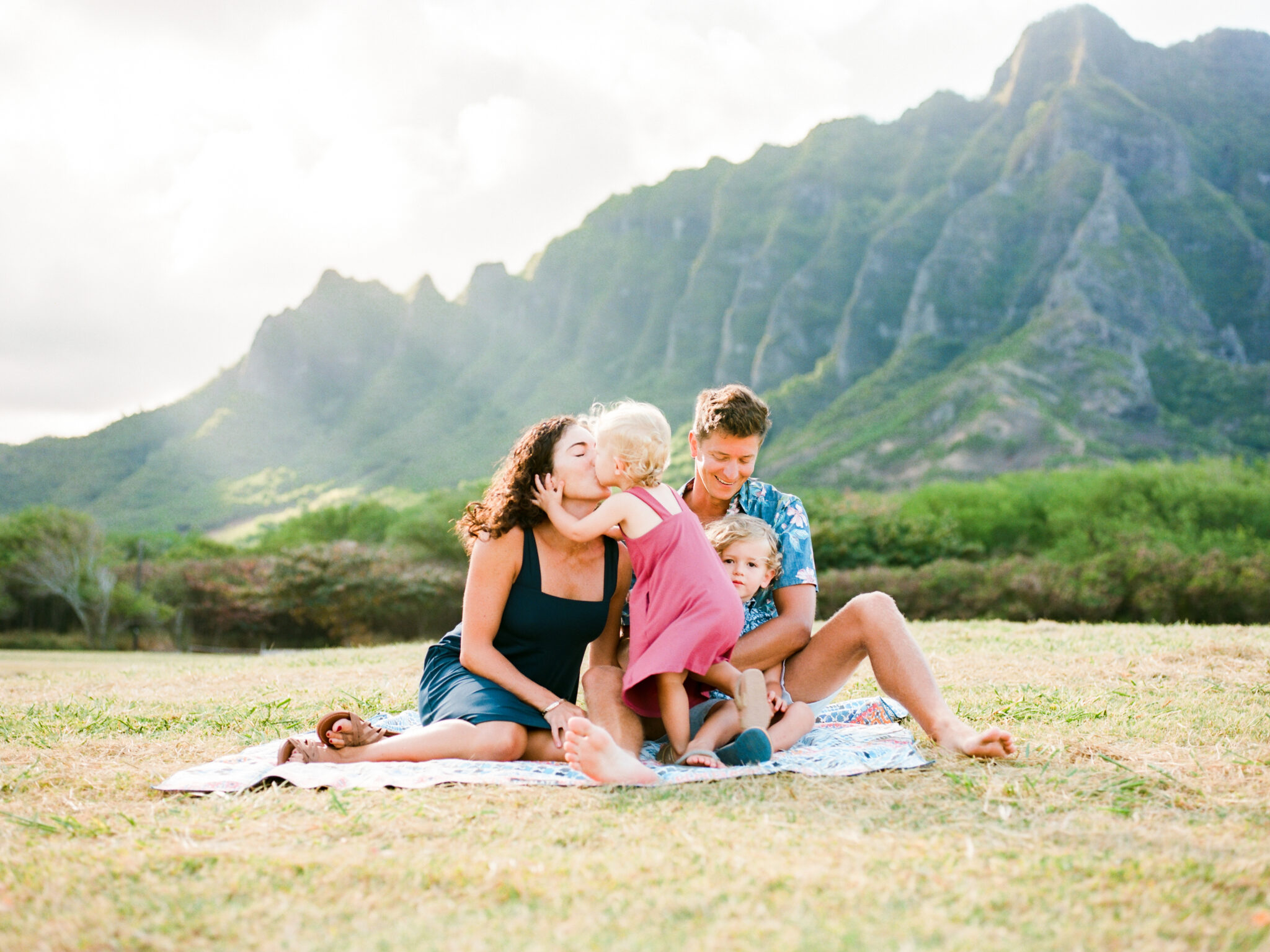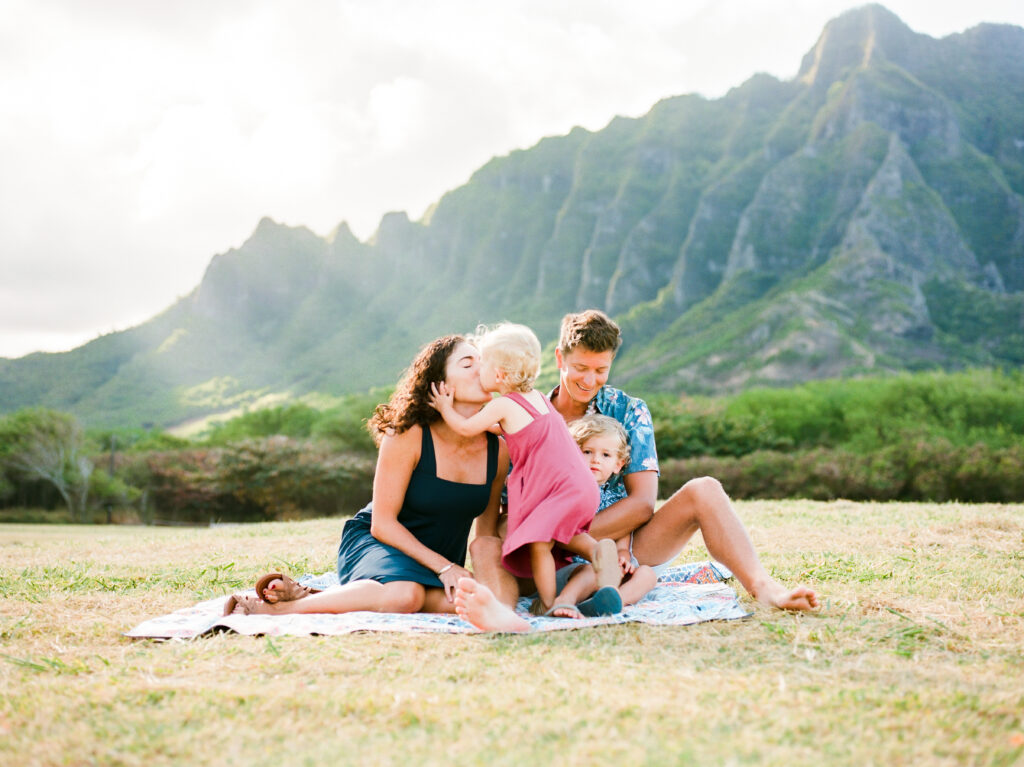 Also known as China Man's Hat for its pointed hat island, Kualoa Regional Park offers a bit of everything. Stunning mountain backdrops and views of Kaneohe Bay are both accessible in one photo shoot. The light shines through the mountain tops in spectacular rays in the late afternoon. It's truly breathtaking. We'll chat about the best timing if we shoot here. I've photographed this location many times and love leading you on a little adventure of the spot!
Haleiwa Beach Park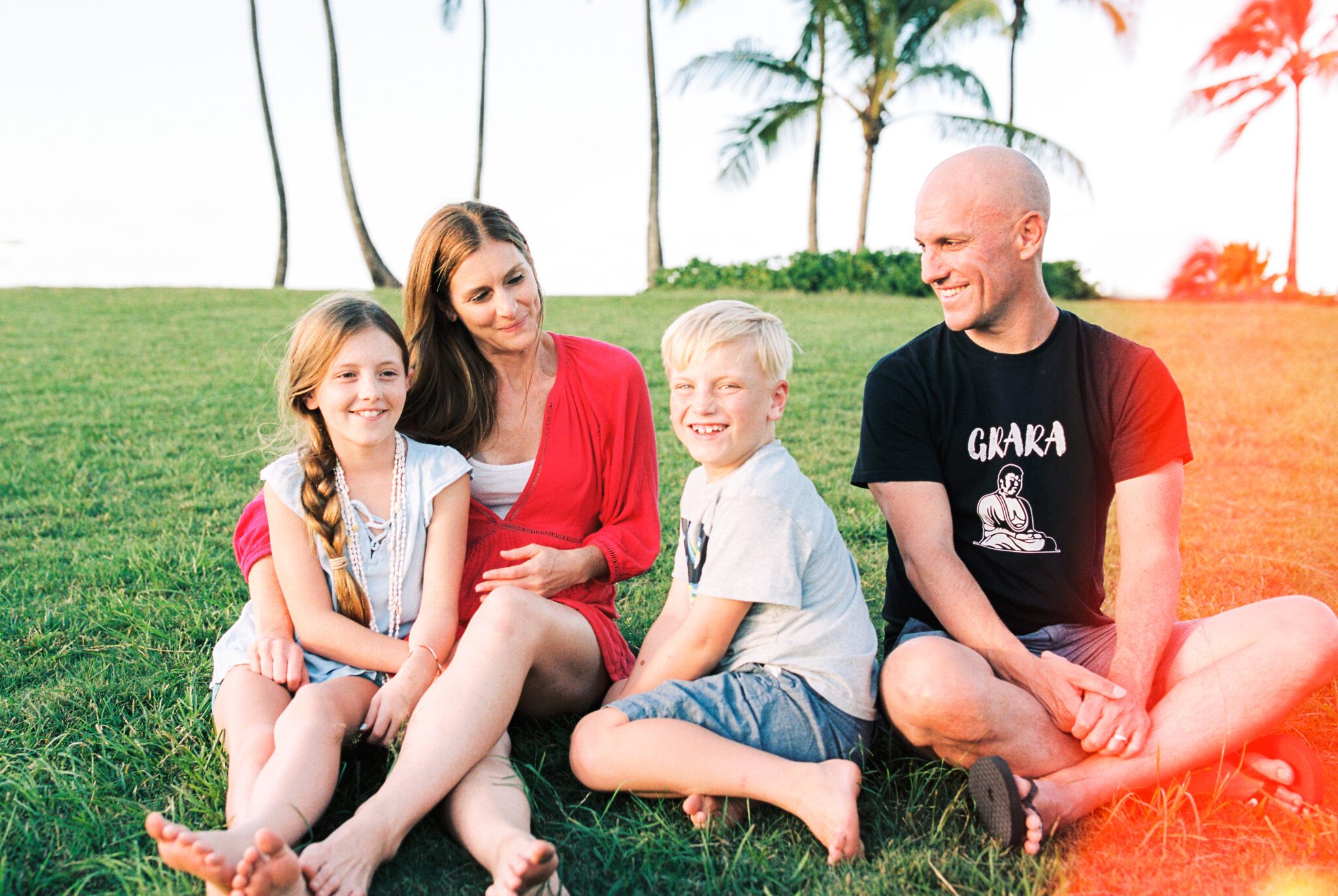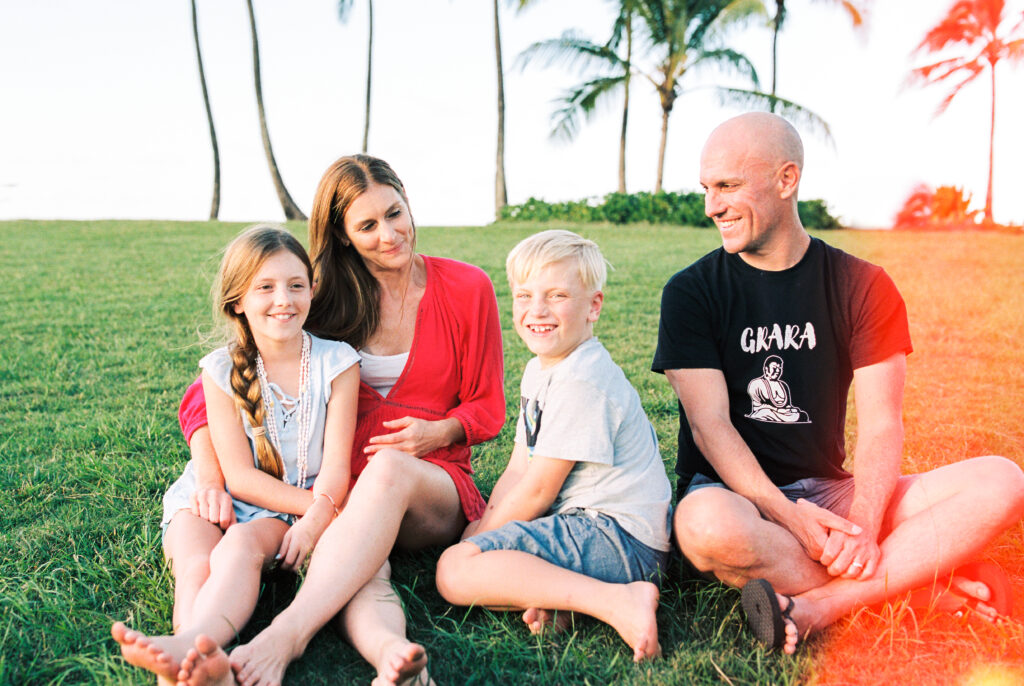 Located outside historic Haleiwa town, this north shore spot has beautiful sunset light, lots of green palm trees, golden sand beaches, and almost always, friendly tortoises swimming nearby. While we won't get close to our tortoise friends, it's always a joy to see them while we freeze your memories. Matsumotos shave ice is close by, so if you're feeling up to it, we can get shave ice before or after your session and capture all the color of the north shore in a fun and playful photo shoot.
Bonus Location : Your Home/Vacation Rental/Hotel 
If you live here or are staying in an epic vacation rental, home sweet home is one of your best options. We'll avoid the crowds and preserve your memories with a meaningful sense of place. Chances are, you and your people  will feel way more comfortable as well! I've found photographing in a home or resort area is a fantastic way to feel at home in front of the camera. I'm happy to come where you are!
Alright friends, I've given you my top fifteen favorite photoshoot locations on the island of Oahu, but most importantly, I want to capture you and your people in a location that speaks to you. If you've got a spot in mind, let's do it! If you're visiting Oahu and are looking for places to visit, feel free to hit me up! I'll have my Family Friendly Oahu Adventure Guide coming out soon!
If you'd like to book a session with Annie, click here